Barbican Pre-School Logo Competition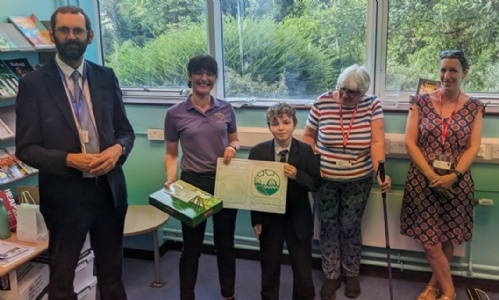 Sarah Sullivan, manager of the Barbican Pre-School, based in East Looe, approached Looe Academy when they wanted their logo revamping. The current design was considered 'scary' at best, and was seen as off-putting to potential newcomers to their Nursery.
Mrs Kyte gave the live project to her Year 8 Graphics group, who had already learnt printmaking techniques and established their own branding for a food/drinks Festival Van.
Students stuck to the brief carefully, paying attention to keywords the nursery aged children and the staff found important, such as education, fun, home, beach.
Initial research and analysis of logos was undertaken to become aware of how colours, shapes, line work, symbolism, text and typeface all contribute to making a powerful, recognisable and memorable logo.
Sketches led to initial ideas, and the students began to develop their favourites. This development and sketching continued, using TechSoft 2D Design software. Peer evaluation in group discussions helped to form opinion and designs were tweaked accordingly.
Competition began to heighten as soon as prizes were mentioned, and the atmosphere in class was even more focused. All students operated the Vinyl Cutter to produce their designs professionally using Computer Aided Manufacture. Professional sign writers use these machines, producing sticky backed vinyl images and text to promote businesses.
The presentation ceremony was held in the library, with the class putting their final touches to their embroidered versions of their designs, so that the Pre-School can apply the winning entry to t-shirts and sweatshirts that their nursery infants can wear.
Sarah, flanked by two committee members, chatted informally to the Year 8's, before making the final decision for the winners.
In third place was Phoebe Wearing with her very appealing, eager to learn octopus; second place was Zack Haresnape with his sunny coastal view and first place was an astonished Bailey Simmons with his well-rounded and detailed design, encompassing so much of the design brief. All winners were presented with Derwent art supply prizes, kindly provided by the Pre-School, as well as key fobs for the every member of the class.
We shall be delighted to see the final result once embroidered on the trademark purple shirts and sweatshirts that complete the branding of the Pre-School. It was a very worthwhile process and one that I would be keen to repeat with another group, so if your logo is looking a little tired… you know where to come!
Mrs Kyte, Graphics Teacher in the Design & Technology Department