Fostering Success: Year 7 & 8 Parent/Carer Workshops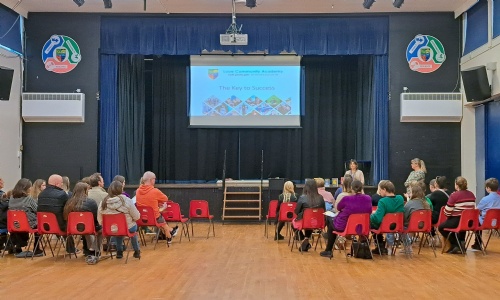 At Looe Community Academy, fostering a strong partnership between parents, carers, and educators is a cornerstone of our approach to student success. Recently, we had the pleasure of inviting parents and carers of Year 7 and 8 students to participate in our "Key to Success Workshops." The workshops were designed to facilitate meaningful collaboration between families and the school, with a focus on student well-being and preparing them for a bright future.
The event was marked by a warm and inviting atmosphere, where parents and carers actively engaged in discussions with core subject Heads of Departments, our PSHCE and Careers Leader, as well as our Teaching and Learning Lead and Special Educational Needs Coordinator (SENDCo). The primary goal was to address the unique challenges faced by teenagers, provide evidence-based solutions, and promote student progress.
Through evidence-based research, parents and carers gained a deeper understanding of the barriers to effective learning and strategies to overcome them.
A central objective of the workshops was to strengthen the connection between our academy and the parents and carers we serve. By bringing families into our educational community, we aim to boost attendance rates and empower parents to actively contribute to their child's academic growth. We firmly believe that by working together, we can enhance each student's progress by at least 4 to 6 months.
We recognise that the love of learning is a lifelong journey. By fostering a collaborative environment where educators and families work hand-in-hand, we can kindle and sustain this love of learning in every child. The Key to Success Workshops exemplifies our commitment to nurturing well-rounded, successful individuals who are prepared to seize the opportunities life presents.
Together, we can help our students achieve their best life chances.