Year 10 student competes in Taekwondo World Cup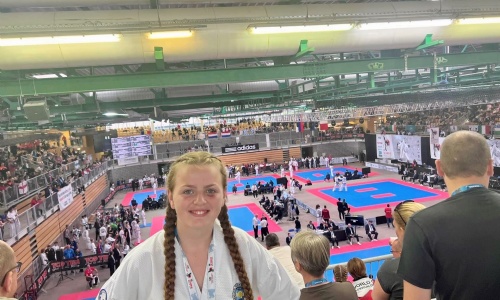 Sian in Year 10 has been competed again, this time at the VIII ITF Taekwondo World Cup in Kopa, Slovenia. There were over 1300 athletes from 52 countries competing.
Sian is now a ITF World Cup Vice-Champion in sparring, having won a Silver Medal in a tough category, 12-14 year old girls +60kg's.
This was the biggest competition that Sian has attended with full opening and closing ceremonies. Sian competed in sparring (her favourite category) and patterns. She also competed for the first time in special techniques which involved breaking a board by flying side kick and front high kick. The starting qualification heights for these were 1.00m & 2.00m.
Another fantastic achievement Sian, a massive well done and congratulations.