Discover Excellence at Looe Community Academy's Open Evening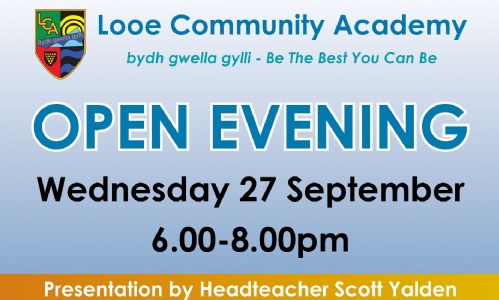 Are you in search of the perfect educational environment for your child? Look no further! Looe Community Academy invites you to our Open Evening on Wednesday, 27th September, from 6:00 PM to 8:00 PM. This event promises an engaging and informative evening for parents and prospective students alike.
Meet the Headteacher The evening kicks off with a special presentation by our Headteacher, Mr. Scott Yalden, at 6:00 PM in the Main Hall. Gain insights into the school's vision, values, and commitment to academic excellence. Discover how Looe Community Academy can nurture your child's potential and help them achieve their goals.
Explore Our Facilities During the Open Evening, you'll have the chance to explore our facilities. From classrooms to science labs, our school provides an enriching environment for learning and personal development.
Engage with Our Dedicated Staff Our teaching staff will be on hand to answer your questions and provide valuable information about our curriculum, extracurricular activities, and the opportunities available at Looe Community Academy.
Contact Information Should you have any questions before the Open Evening or require further information, please don't hesitate to get in touch:
Don't miss this opportunity to learn more about the exceptional educational experience that awaits your child at Looe Community Academy. We look forward to welcoming you on Wednesday, 27th September, from 6:00 PM to 8:00 PM. Join us in shaping a brighter future for your child!