Stunning Coronation-Themed Artwork Unveiled at Looe Community Academy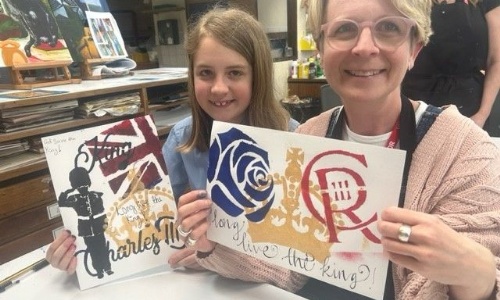 On Thursday 4 May, Looe Community Academy dedicated its art lessons to creating stunning artwork with a Coronation theme. The students used iconic images and worked with stencils that had been prepared in advance, allowing them more time to focus on design and composition. What made this activity even more exceptional was that family members were invited to attend with their children.
The students and family members received guidance on how to use the materials and achieve the best results before engaging in the activity. Everyone produced fantastic work and was fully engaged in the task. It is hoped that the artwork will be displayed around the area over the Coronation weekend. The Creative department has been focused on building community links and working with families on various projects throughout the academic year, including using Instagram to showcase students' work and organizing community exhibitions. The department is eager to develop more of this collaborative work.
"I was delighted to see the students truly considering their designs and working together to create outcomes they can be proud of," said Miss Welch, Art Teacher at Looe Community Academy.
"I'm thrilled that the Art department is pioneering this collaborative initiative, and I'm glad that family members have taken up the opportunity to enjoy working with the students. It was a great success, and I look forward to seeing more of this work over the next few months," added Miss Wood, Assistant Head Teacher.
"It was great to be involved in the children's learning and to experience some of Isla's school day," commented Lucy Shakerley, parent of Isla.