Geography
In Geography, students improve their understanding of people and the planet, exploring the world in terms of what it does, where, when, how and why?
Students have the opportunity to learn in a variety of ways, are encouraged to think creatively and work in their preferred learning styles on varied challenges.
Use of GIS, debates, current news related topics and of course Geographical Fieldwork, help stimulate interest and curiosity.
Sustainable development is a central theme, exploring how we as citizens of the planet, live in different ways that can either hinder or help all our futures.
KS3
Year 7
* What is Geography?-It's your Planet
* Globes/Atlases/Maps
* Location Location Location-Know your World!
* Water Water Everywhere - Future Floods?
* Shop 'til you drop!
* People Everywhere?-(Population & Urbanisation)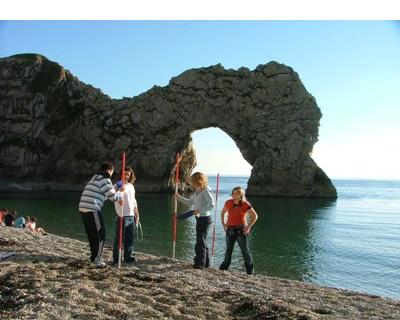 Year 8
* Welcome to Africa & India– Place Detectives!
* The Earth is Restless! Geological timescales (Volcanoes/Earthquakes)
* Water World-Rivers/Coasts/Glaciation. Changing Landscapes!
* Investigating the Geography of Crime
* Rocks/Weathering & Soils
* The Middle East
Year 9
* Weather & Climate Patterns, Change & Hazards!
* Paradise Lost?-Tourism Good or Bad?
* Globalisation & the Fashion Industry– Made in China/India/Bangladesh?
* Tropical Rainforests– Use or Abuse of Natural Resources?
* International Development- Rich world Poor World
KS4
Year 10 & Year 11
The choice of topic areas studied will be;
* The Restless Earth (e.g Supervolcanoes and tsunamis).
* The Coastal Zone (e.g Rising sea levels, coastal landforms, flooding, habitats and conservation)
* Water on the Land (e.g rivers and flooding, water supply in the UK)
* Population Change (e.g Economic and refugee migration in the EU)
* Tourism (e.g Mass tourism, sustainable tourism, tourism in extreme environments)

* Globalisation (e.g Developments in ICT. China as an industrial giant. Pollution control, Global food supply issues)
* Changing Urban Environments (e.g Planning issues in urban areas. Urban deprivation. Squatter settlement redevelopment. Sustainable urban living).
* Changing Rural Environments (e.g Pressures on remote rural areas, support for the rural economy, agribusiness)
How will I be assessed?
* Controlled Assessment (25% of the total marks). A Local Fieldwork Investigation, written up under direct supervision in class, in a total of 20 hours.
* 2 examination papers each of 1 hour 30 minutes. Each Paper is worth 37.5% of the total GCSE marks, with two tiers of entry according to performance.
What will I be working towards?
GCSE Geography grade A*-G awarded by AQA based on the 'A' specification.
This can then be used to go on to AS/A Level or related higher education course, or as a supplementary GCSE, with a broad base of skills and knowledge to use on other courses/careers and everyday life.

What happens when you have finished?
We need Geography to understand our surroundings. It helps us to put world events into place and to be involved in influencing decisions that affect ourselves and our environment, whether locally or globally. Colleges, universities and most importantly employers, regard people with qualifications in Geography as having skills in real world decision making, about people and how they act and react to their physical environment, past, present and future. Key skills include: communication (written, oral, ICT), teamwork, flexibility, decision making, self-management, creativity, problem solving and analysing. The list of potential careers is vast.
Full Curriculum Statements can be downloaded below: